Three Things All Property Managers Need to Know When Filing Fire Insurance Claims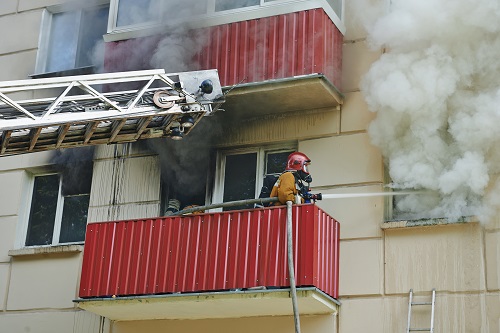 The 313,800 individuals who work as property managers in the U.S. (according to the U.S. Department of Labor's Bureau of Labor Statistics) know that watching over a group of buildings, apartment complexes or scattered residential properties can be an organizational and time management challenge - even on a good day. What happens when one of those properties catches fire and sustains extensive damage?
Apartment building fires are extremely common. According to the National Fire Protection Association, there were more than 95,000 apartment structure fires in the U.S. reported to municipal fire departments in 2015 alone. Who is usually responsible for overseeing the repair, remediation and rebuilding of the damaged facilities while also making alternate housing arrangements for their tenants? The property manager!
This post-disaster recovery process will likely require a great majority of the property management team's time, attention and focus as well as a big part of the organization's budgeted maintenance funds. Filing an insurance claim is a necessary step in order to minimize the financial impact of the disaster but doing so can quickly become a substantial additional burden on the property manager.
Not only is the property manager faced with critical recovery decisions but they're also responsible for damage mitigation. It's likely that they'll find themselves navigating a complicated claims process complete with confusing insurance jargon and the need to produce extensive loss detail in order to justify their claim to the insurance carrier.
Craig Becker, SPPA
Executive Vice President of Claims at Detroit-based Globe Midwest Adjusters International
We asked Becker, who has guided many property managers through the post-fire insurance claim process, for his top three tips to help property managers get the best possible results from their fire insurance claims:
1. Hire Your Own Experts
Becker notes that the insurance company representatives may not arrive and process the claim immediately. There are often setbacks and delays in initiating the claims process. Also, once that claims process does get started, the insurance adjusters, who are employed by the insurance company, will almost always adjust the claim with the goal of limiting the insurance company's financial exposure rather than maximizing your financial settlement. By hiring a public adjuster to act as your advocate, and by hiring your own engineers and restoration experts to document your claim, you will stand a better chance of getting everything you're owed under your policy.
2. Don't Waste Coverage Dollars
Becker notes that policyholders sometimes waste limited insurance funds cleaning items that will later be disposed of. Furniture, carpeting and decorative items that are damaged by water or smoke may seem cleanable but many times, they are later found to be ruined. The insurance adjuster may direct the property manager to have contents removed from the structure before they have a full remediation plan and assessment of the damages in place and without regard for the policy's limits. Even if the cleaning is unsuccessful, the insured will still have to pay for those services. These types of wasteful expenditures can and should be avoided.
3. See the "Big Picture"
Property managers need to read the full policy and understand its limitations and exclusions. For example:
Is it a Replacement Cost Policy (which covers the cost to replace lost or damaged property with no deduction for depreciation) or an Actual Cash Value Policy (which reimburses the policyholder based on the market value of the property or replacement cost less depreciation)?
Are the building's contents limits high enough to cover all furniture, fixtures, and equipment including computers, security systems, etc.?
If the building is completely destroyed, will the structure have to be rebuilt at the same location or are they able to relocate? Can an existing building be purchased instead of rebuilding?
Property managers need to understand how their policy will respond and to make a claim based on is best for their business and utilize those dollars.
Becker notes that although it's almost impossible to be fully covered for any and every fire scenario, property manager's who take the time to review, discuss and explore their current insurance coverage, stand a much better chance of surviving and thriving after a fire loss.
---
Listen to our podcast on "Common Exposures and Losses Faced by Multi-Family Complexes (Apartments and Condos)" to hear more tips from our experts:
For additional information, visit:
---